Our education programmes  harness the power of sport to positively engage learners who may be at risk of disengaging with education or who are excluded.  Clients including Central Government, Colleges, Prisons and Local Authorities recognise how sport can engage learners in a way that almost no other subject can.
Our delivery team  of tutors and sport coaches are from a diverse range backgrounds including: schools, PRUs, sport clubs, colleges, childcare and armed services. With this wealth of experience they are able to design and deliver engaging programmes with the values of sport at their core.
Sessions are designed to be interactive and focus on bringing the classroom to life by breaking down the walls and getting the learners moving and communicating with one another. We deliver non-accredited and accredited learning in bespoke education programmes tailored to the needs of the individual.
We focus our delivery on recognising the achievements of young people. We believe that many young people in the UK today feel a tremendous sense of failure brought on by the conclusion that qualifications are their golden ticket to a future. For many of those young people the achievement of that qualification seems out of reach.
By working alongside schools and colleges we are able to support young people outside of the national curriculum and focus on skills that everyone can achieve. In recognising those achievements our learners return to the classrooms feeling confident and having developed the self-belief that they can gain qualifications and have a future in which they will make a positive contribution to society.
93% of learners (2017-18) have successfully progressed into education, employment or training following our intervention.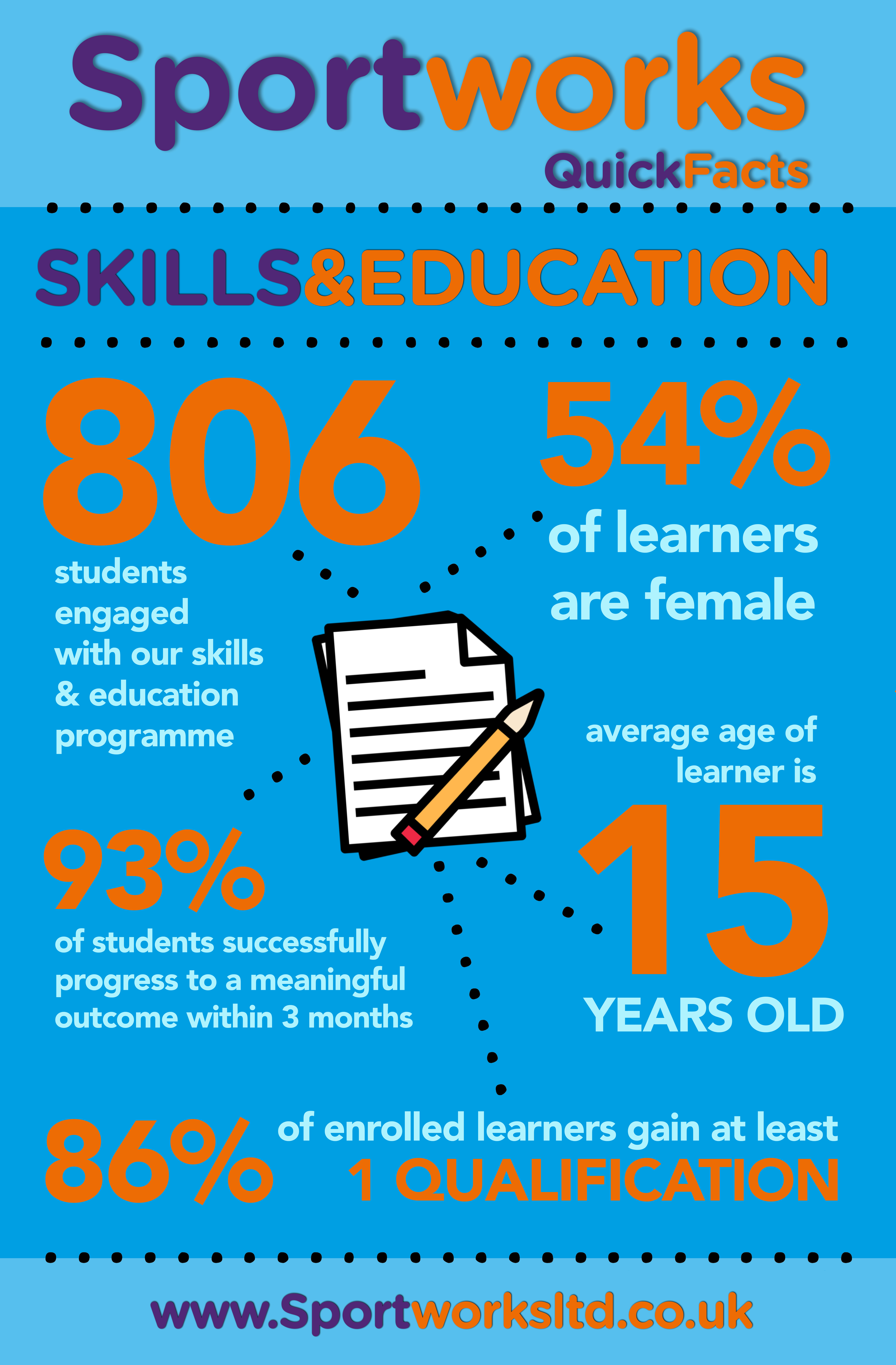 ALTERNATIVE EDUCATION PROVISION
With Sport Works' Head Office based in the North East, the area of the UK with the highest exclusion rates, we all too aware of how, without the right support, permanent and fixed term exclusions are negatively effecting the progress of our young people.
Those most likely to undergo extended or repeated periods of exclusion are the ones who need more adult supervision, not less.
Our team design bespoke learning plans that help young people to improve their behaviour, skills and confidence so that they can return to the classroom better focused on learning and less likely to be disengaged.
FUNDED PROGRAMMES

Sport Works has secured Government funding to offer the following programmes free of charge:

European Social Fund:  100% funding for learners aged 15-24 who are NEET or at risk of disengaging from education
Adult Education Budget:  100% funding learners aged 19+, including those unemployed or with SEN

If you support or know someone who you think would benefit from our support contact us on:

0191 5800 120 / rachael@sportworksltd.co.uk or complete our enquiry form